Travel Advisory: Cebu Safari & Adventure Park is scheduled to officially open in the first quarter of 2018. Group previews (PHP 800 / USD 16 per person, inclusive of buffet lunch)  may be arranged for those wishing to see the park before it opens to the general public. For inquiries, email rrraagas@cebusafari.ph. 
For the latest updates, check out the official Facebook page. 
Here's a sneak preview of what to expect when visiting this new attraction!
---
One of the country's most-anticipated new attractions is Cebu Safari & Adventure Park, a world-class zoological garden sprawled across the mountains of Barangay Corte, Carmen, 50 kilometers north of Cebu City. Covering a land area of 170 hectares, Cebu Safari is the largest zoological park in the Philippines, and one of the biggest in Southeast Asia, after Naypyidaw Zoological Garden in Myanmar (247 ha) and Safari World in Thailand (190 ha) .
So far, the facility has brought together nearly a thousand animals belonging to over 100 species from all over the world. And more are expected to arrive as the facility grows. There are fascinating fauna of all shapes and sizes from a kaleidoscope of tropical birds to majestic mammals like tigers, giraffes and orangutans. For plant lovers, the vast park also features Michel's Garden, a landscaped terrace filled with 1.2 million orchid plants from the owner's private collection. Moreover, hotel accommodation and a 1.2-kilometer zip-line – touted to be one of Asia's longest – are currently being built in the property.
Cebu Safari currently houses 970 animals belonging to 111 species.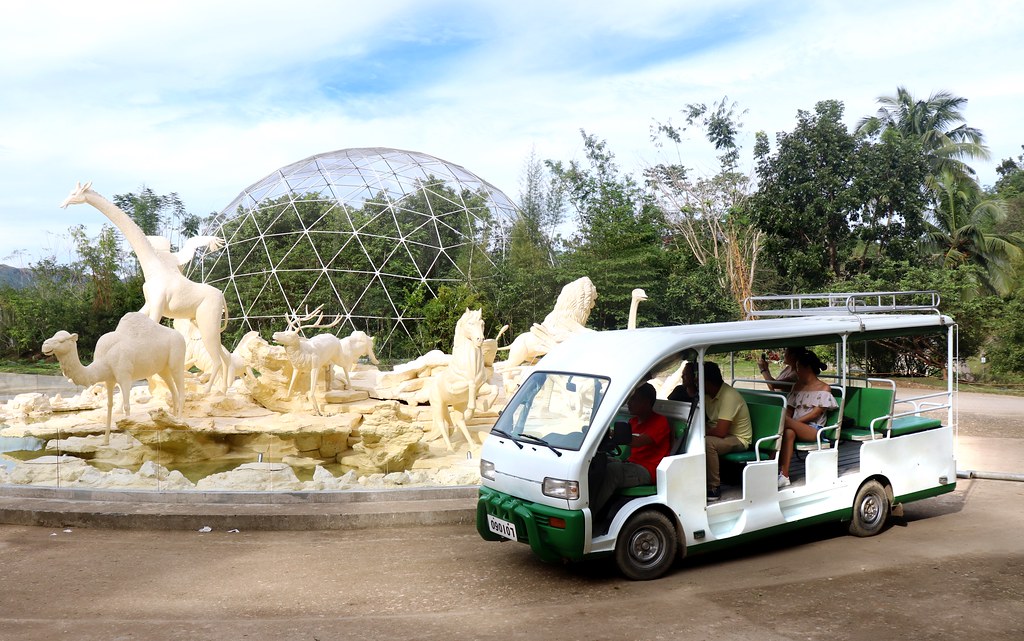 The tram passing by the Safari Fountain and Aviary Dome.
Together with a group of friends, I recently enjoyed a sneak preview of the zoo to see how far the facility has gone since construction began ten years ago within the 2,000-hectare farm estate of pawnshop tycoon Michel Lhuillier. Realizing the "open zoo" concept, the park showcases its animals in large enclosures that simulate their natural habitat with the mission to educate people about wildlife and environmental conservation. A tram brought us around the park, negotiating the hilly terrain of the property.
From the Welcome Pavilion overlooking the rolling green landscape, we noticed the most standout structure: the Aviary Dome. This 12-meter-tall steel walk-in structure houses 11 species of tropical birds including the chattering lory and Victoria crowned pigeon. One can interact with some of the birds through scheduled feeding of fruits. The aviary stands next to the Safari Fountain roundabout, featuring an impressive tableau of wildlife statues.  In another section of the park, an elevated boardwalk takes visitors over the forested enclosure for two species of cassowary, a fearsome flightless bird from Australia and New Guinea. When fully operational, the park will also feature twice daily bird shows at Safari Stadium amphitheater.
Dante, the most adorable resident of Orangutown.
Feeding chattering lories – endemic to North Maluku, Indonesia – inside the Aviary Dome.
Strolling through Michel's Garden, featuring 1.2 million flowering orchid plants!
One of the most exciting areas of the park is the African Savanna, a large enclosure that visitors tour on a safari truck. The area showcases grazing animals like zebra, kudu, impala and wildebeest.  Another impressive site was the crocodile pond with elevated steel walkways that encircled the enclosure so visitors may take a closer look at the saltwater crocodile and – the world's rarest crocodilian species – the Philippine crocodile. Other endemic fauna featured elsewhere in the property include the Visayan spotted deer and Visayan warty pig.
The Canopy Walk is a boardwalk that takes visitors through the forested cassowary enclosure.
The northern cassowary is one of three species of cassowary, a fearsome flightless bird from Australia and New Guinea.
One of the prized animals in the collection is the grey crowned crane from eastern and southern Africa.
The crocodile enclosure features the saltwater crocodile and Philippine crocodile.
The Philippine crocodile is the world's rarest species of crocodile!
Among my favorite animals to observe were meerkats, gibbons and ring-tailed lemurs. Across the property, restaurants and cafes are built right next to some enclosures to allow visitors to observe the animals while dining or resting. At Tiger Turf, we enjoyed lunch while watching Bengal tigers prowl their domain, occasionally approaching the glass wall for a face-to-face encounter with these magnificent predators. Due to the ongoing construction, not all of the animals were released into their enclosures yet. We visited two giraffes at their holding pen. Nearby, we got to take a peek at caged hyenas.
As the safari park undergoes construction, there was so much more we didn't get to see – lions, kangaroos, capybaras, just to name a few – since they haven't been released in their respective enclosures. Our tour guide also told me they will be bringing in African rhinoceroses! I can't wait to revisit the safari park again soon when it formally opens and begins full operation. Are you excited to visit Cebu Safari & Adventure Park, too?
A safari truck tours visitors around the African Savanna enclosure.
The African Savanna features grazing animals like zebra, impala and wildebeest.
At Tiger Turf, one may dine while observing Bengal tigers in a next-door enclosure.
A blue-and-yellow macaw boasts its wonderful plumage at its special aviary shared with scarlet ibises.
---
How to Get There
The best way to reach Cebu Safari & Adventure Park is by private vehicle, although taking public transportation is doable albeit time-consuming. From the Cebu North Bus Terminal in Mandaue City, take any northbound bus passing by Carmen and alight across the junction before Carmen National High School. Hire a habal-habal motorbike (PHP 40 per person) to take you up the 9-km stretch of mountain road to the zoo. Total travel time will take two to three hours.
Entrance Fee
Entrance fees will be PHP 600 (USD 12) per person. Children from 2 to 3 feet tall get 50% off, and those 2 feet or less are free-of-charge.
Where to Stay
Hotel accommodation is currently being constructed at the site. Search for Cebu hotels here!
---
Contact Details
Cebu Safari & Adventure Park
Barangay Corte, Carmen, Cebu
Contact Number: +63 9453013700
Website: www.cebusafari.ph
Location Map