Last October, after revisiting the heritage city of Silay and spending a weekend in Bacolod for the Masskara Festival, I bussed further south to the municipality of Cauayan and hopped on a bangka (outrigger boat) for a 30-minute ride to Danjugan Island Sanctuary, an eco-tourism destination I have long wanted to experience. Despite its small size – the lush island is only 1.5 km long and 500 meters wide – Danjugan is packed with topographical features, creating diverse habitats that guests may explore and encounter a diversity of native wildlife. It is owned and managed by environmental non-profit, Philippine Reef and Rainforest Conservation Foundation, Inc.
The 43-hectare limestone island is blanketed by mangrove and beach forest, and features pockets of white-sand beaches, bat-filled caves, and five – yes, five! – lagoons. While the sanctuary accepts visitors and offers on-site accommodations, Danjugan is first and foremost a wildlife and marine sanctuary, and avoids positioning itself as a "resort". Here, visitors are welcomed as guests of Mother Nature.
I arrived at Typhoon Beach on the western side of the island, facing the the Sulu Sea. Most guests, whether visiting for a day or spending the night, arrive at this camp, which one could consider as the sanctuary's headquarters. Overnight guests may also opt to stay at Moray Lagoon on the southern side in open-air eco-cabanas. The facilities at Typhoon Beach consists of a few guesthouses, an open-air pavilion housing the restaurant and kitchen, and a dive shop for snorkeling and freediving equipment. The restaurant prepares home-style set meals of local dishes, so let the staff know of any diet restrictions before your visit.
Kayaking & Hiking
Friendly and accommodating staff can arrange guided activities during your stay at Danjugan. After having lunch and settling in at Manta House, a rustic mud-house that will be my home for my three-day stay on the island, I began my exploration of the island with a kayaking tour from Typhoon Beach to North Lagoon, which took a couple of hours. The calm body of water was surrounded by limestone cliffs. Along the way, we spotted a mangrove kingfisher and Pacific reef heron.
Later in the afternoon, I was taken on short hike to the south side of the island, passing by Turtle Beach – where sea turtles return to nest – then the mangrove-fringed Second Lagoon towards the Bat Cave, a small limestone opening teeming with Geoffroy's rousette bats (Rousettus amplexicaudatus), the same species found in larger numbers at Monfort Bat Sanctuary on Samal Island. Looking closer at the limestone wall, we spot a reticulated python (Malayopython reticulatus) resting on a ledge, eyeing the restless colony of bats!
The next morning, another staff member Ram-Ram accompanied me from Typhoon Beach to the Bamboo Bridge, a platform built over rocks along the east coast which offers the best sunrise views (and the strongest LTE signal, if you need reliable internet access). The overcast weather, however, concealed the sunrise during our visit. Nonetheless, I really enjoyed the tranquil views of fishing boats traveling across the placid waters. I also found the morning walk itself rewarding as it cut across a lush forest trail. I was particularly drawn to the impressive climbing dragon-tails (Epipremnum pinnatum), tall Pandanus trees, and round-leaf fountain palms (locally known as anahaw) growing along the pathway.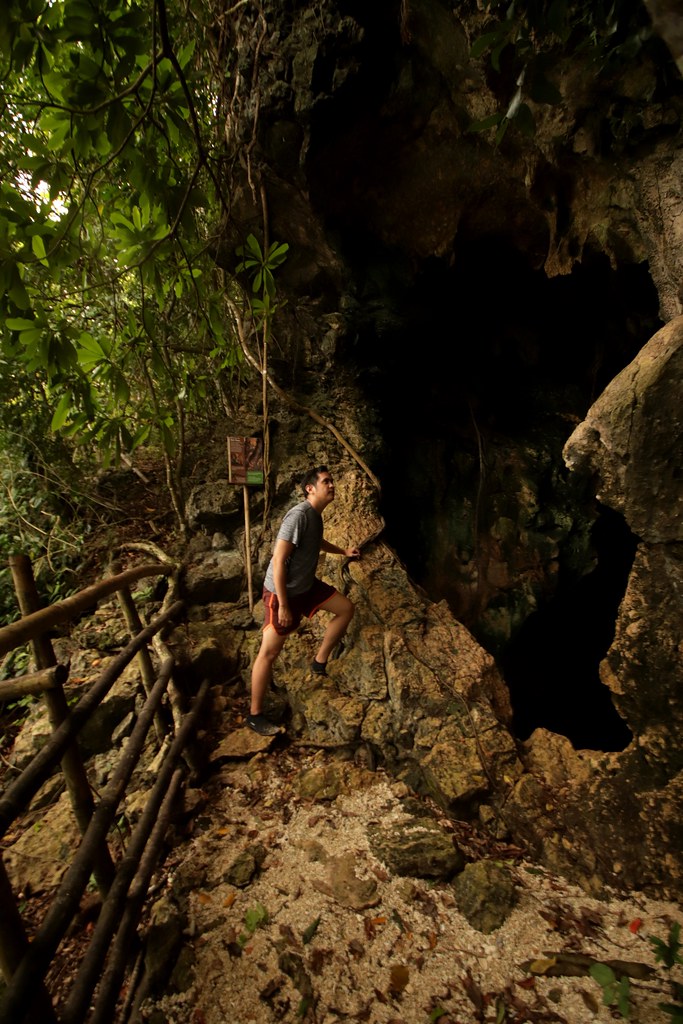 Scuba Diving & Birdwatching
The following morning, the staff arranged a couple of dives for me. Danjugan doesn't typically offer scuba diving to their guests, so this was a special arrangement. The staff may take guests snorkeling or freediving at selected sites. Those who wish to scuba dive at the island may do so via Easy Diving Cauayan on the mainland. Our first dive was at Manta Reef right across Typhoon Beach, marked by a rocky islet. The dive site was a slope . Unfortunately, the underwater visibility wasn't great during our dive, most probably due to a combination of heavy rains and unfavorable surges stirring up the sand and rubble left behind by in the aftermath of supertyphoon Odette (Rai), which devastated the island in December 2021.
While the storm damage was evident, the reef was teeming with a lot of coral fish. I also came across a huge Tridacna gigas giant clam. After lunch, we went to the eastern side of the island to dive at Hilary's Reef, but unfortunately the visibility was really bad that we had to abort the dive as soon we got into the water.
Instead of the second dive, we proceeded to the East Beach, where we encountered the only beach stone-curlew (aka beach thick-knee, Esacus magnirostris) living on the island. Uncommon throughout most of its range from Australia to Southeast Asia, it prefers to live in undisturbed coastal areas. It is one of world's largest shorebirds. I approached it very slowly so as to avoid spooking the animal, and managed to take decent pictures of the rare bird, whose plumage camouflaged well against the beach environment.
The boat then ferried us just north of East Beach to Moray Lagoon, the east-facing campsite, where stilted pavilions were built over the edge of the water. Beneath the over-water structures, we spotted a few peppered morays (Gymnothorax pictus) – which gave this lagoon its name – poking out of muddy holes or stalking the labyrinthine mangrove roots in shallow water.
From this lagoon, its a short walk back to the western side of the island to Tabon Beach, where we spotted the same beach stone-curlew once again foraging at the southern end. This beach was named after the Philippine megapode (Megapodius cumingii), locally known as tabon, which nests along this shoreline. They are native to the Philippines, northeastern Borneo, and Sulawesi. The chicken-sized, flightless birds build large nest mounds along this shoreline, measuring five to eight meters in diameter! We found one of them along Tabon Beach, however, none of the birds were around. I only spotted these shy ground-dwelling birds on my last morning at Typhoon Beach, when we spotted a pair foraging next to the guesthouses while we were enjoying breakfast.
Despite the aborted dive, I was extremely satisfied by the wildlife encounters on my last full-day on the island. From Tabon Beach, we hiked back to Moray Lagoon and boarded the bangka to bring us back to Typhoon Beach via the northern end of the island. As we were traveling back to home base, the boatmen excitedly gestured to the sky above the forest canopy. We were treated to a sighting of the island's only pair of white-bellied sea eagles (Haliaeetus leucogaster) – possibly a parent and its juvenile young – soaring above the treetops! My two-night visit to the island was blessed with more wildlife encounters than I could hope for. Like Masungi Georeserve in Rizal Province, Danjugan Island Sanctuary is another eco-tourism gem worth emulating by other protected areas in the Philippines.
Location Map
How to Get There
Tourists who wish to visit Danjugan Island Sanctuary must first submit a request. From Bacolod City, take a bus from Ceres Southbound Terminal bound for Sipalay or Hinoba-an. Make sure to advise the conductor beforehand to drop you off at the Sitio Antol Port to Danjugan Island in Barangay Bulata, Cauayan. Travel time is around four hours (inclusive of a stopover at Kabankalan City).
Tour Packages
Day-trippers can choose between a 3-hour tour (₱1,000 per person) or full-day tour (₱2,000 per person), inclusive of guided program tour, activities with gears provided, boat transfers, and unlimited coffee and drinking water. The full-day tour includes lunch and snacks. If you prefer to stay on the mainland, find a resort that suits you in Cauayan or Sipalay City.
Overnight packages are available for stays at Moray Lagoon (₱3,000 per person) in open-air eco-cabanas with shared toilets and showers, or Typhoon Beach (₱4,000 per person) with private accommodations and ensuite toilet and showers. These are inclusive of previously mentioned amenities, plus three meals a day and snacks. More details here.